Ford Employee Pricing is back! Right now, get up to $15,000 in Total Price Adjustments on new 2019 Ford Models.
Plus, an additional $1,000 Trade-in Bonus for eligible customers* (*ending September 3rd)
Have you been wanting to own a new Ford? Have you been dreaming for quite some time about driving a new Ford? Now is definitely the right time to buy since Ford Employee Pricing is here once again at Terry Ortynsky's Royal Ford in Yorkton, Saskatchewan. You get to pay what Ford employees pay for a new vehicle. Whether you are looking for a Ford SUV, F-150, Ranger or Mustang, you enjoy big price adjustments and save hundreds of dollars during this most anticipated time of the year!
If you are not aware of this program and wondering about Ford Employee pricing 2019 dates, just continue reading below to find out relevant details about this once-a-year special event at Ford dealerships. Yes, it only happens once a year! That is why it is important that you know the perfect time to get yourself into a new Ford. Find out the exact dates and mark your calendar to remember these dates.
Have you asked when does Ford Employee Pricing start 2019? Every year Ford of Canada runs this promotion for a very limited time enabling people who have been looking for a new Ford to get the lowest price possible. During summer beginning in the month of July, new Ford Mustangs, new Ford SUVs like Ecosport, Edge, Escape and Explorer, and new trucks such as F-150 and Ranger are available at prices that Ford employees pay from Ford of Canada. Additionally, qualifying vehicles have rebates and trade-in bonuses. Please do not miss out on this once-a-year opportunity of huge savings to buy a new Ford at a very reasonable price!
You may also be thinking when does Ford Employee pricing end. It usually runs from July until September. However, not all the offers such as Trade-In Bonuses last throughout the promo period. It is always best to visit Terry Ortynsky's Royal Ford as soon as summer starts for a larger and better selection of vehicles. With the amazing offers from Ford, most vehicles on our lot are sold quickly. We recommend that you check our inventory online, give us a call at 306-782-2261, or visit us at 81 Dracup Avenue, Yorkton, Saskatchewan as soon as you can. The earlier you can come, the better!
If you are looking for a new Ford F-150, the Ford Employee Pricing F150 is surely a tough offer that you cannot miss. Right now, get over $15,000 in total price adjustments plus eligible customers also receive an additional $1,000 Trade-In Bonus on a new 2019 F-150 Limited. If you are ready for an adventure, look no further than a Ford Ranger Lariat that can give you savings of at least $4,000. This current offer is valid until September 3, 2019. We encourage you to visit our dealership and get the truck that you have been eyeing!
Meanwhile SUVs also have amazing Ford Employee Pricing deals. If you need a subcompact Ford EcoSport, you can get over $5,500 in total price adjustments on the 2018 Ford EcoSport Titanium AWD. If you want the new smart SUV, get over $5,000 in total price adjustments on the 2019 Ford Escape Titanium. If you prefer power and practicality in a stylish SUV, a Ford Edge is perfect for you. Get a 2019 Ford Edge Titanium and save more than $6,500. If your eyes are set on a 2019 Ford Explorer Platinum, you can stop looking and start driving by paying what Ford employees pay and save over $5,800 in total price adjustments. All these SUVs also offer additional $1,000 trade-in bonuses to eligible customers valid now until September 3, 2019.
If you have ever dreamed of yourself in a Ford Mustang, then now is the time to make that dream a reality as you pay what Ford employees pay for the legendary Mustang. Total price adjustments amount to more than $8,100 on a new 2019 Ford Mustang Fastback GT Premium with optional features selected. Eligible customers also get a $1,000 Trade-In Bonus from today until September 3, 2019.
Now that you have more information on Ford Employee Pricing, just reach out to any of our Sales Consultants with whom you can freely talk and ask questions. Our professional staff are non-commissioned and all trained to assist you on getting your new vehicle. Do not wait for the last day, act now and get your new Ford!

---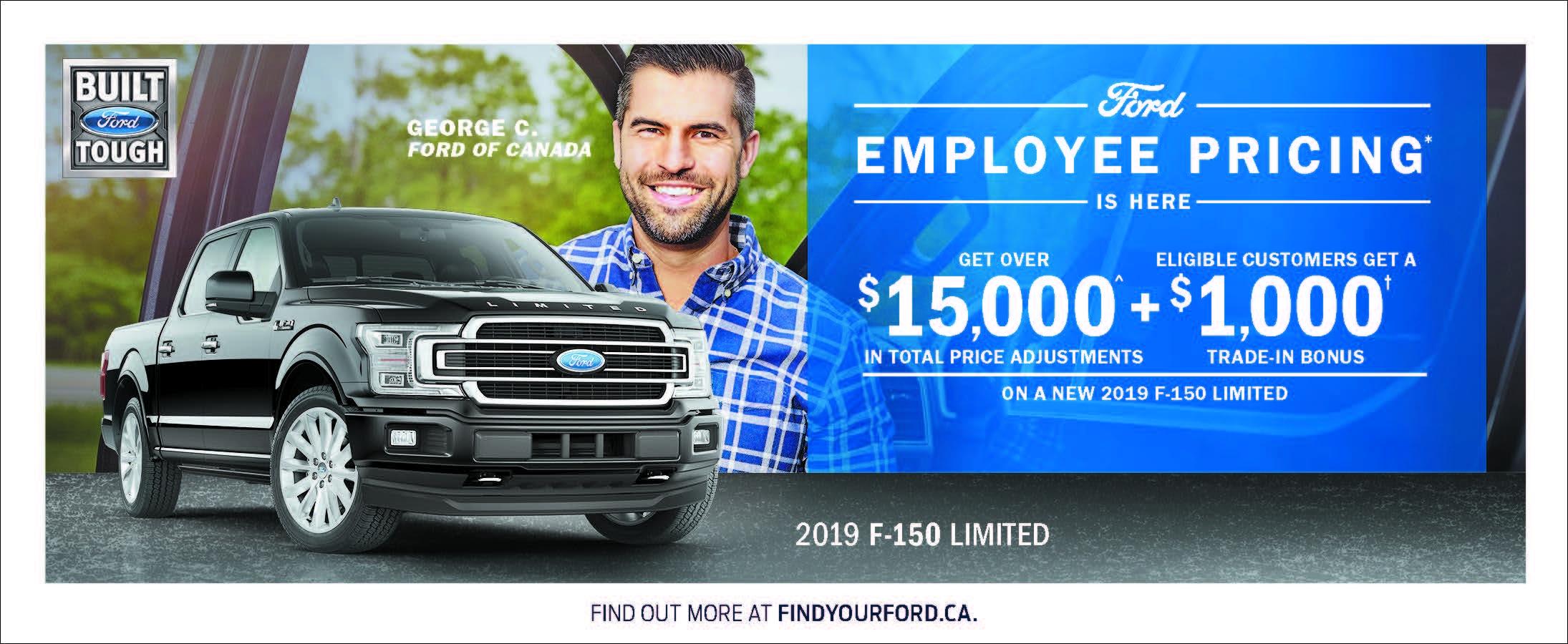 ---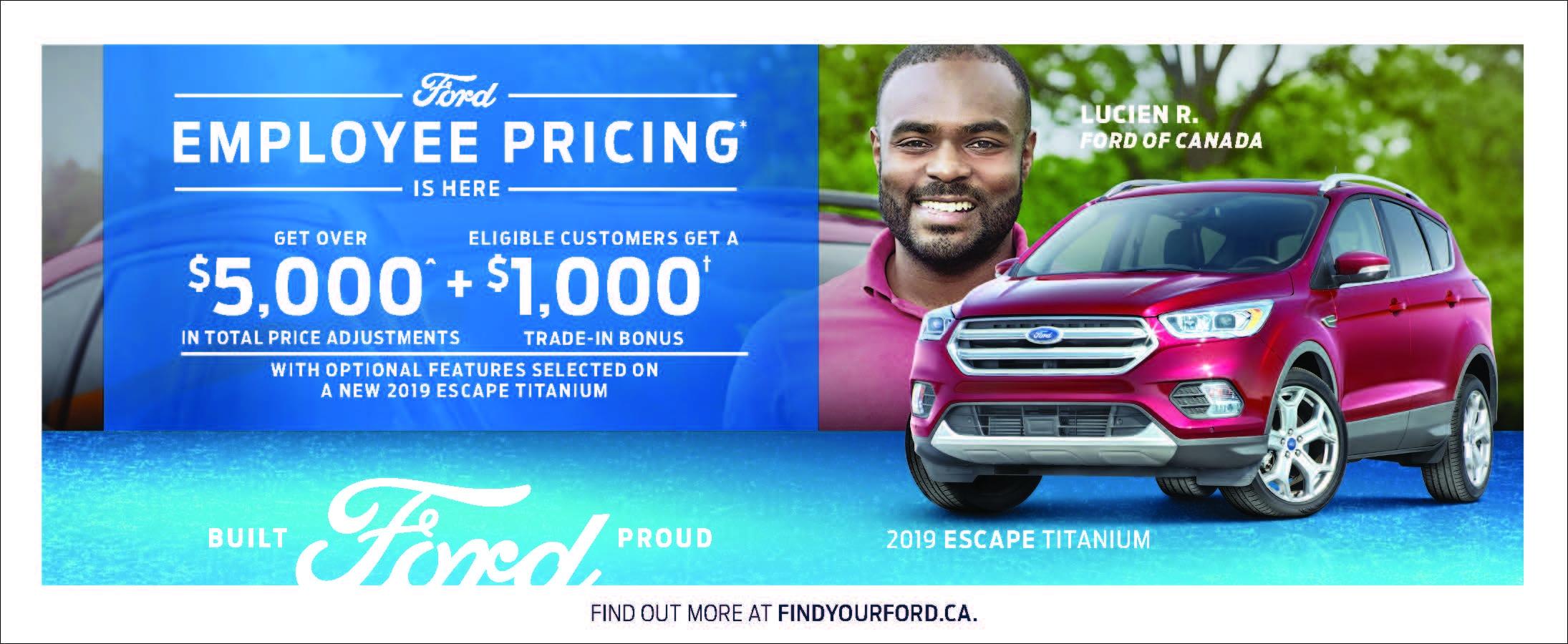 ---

---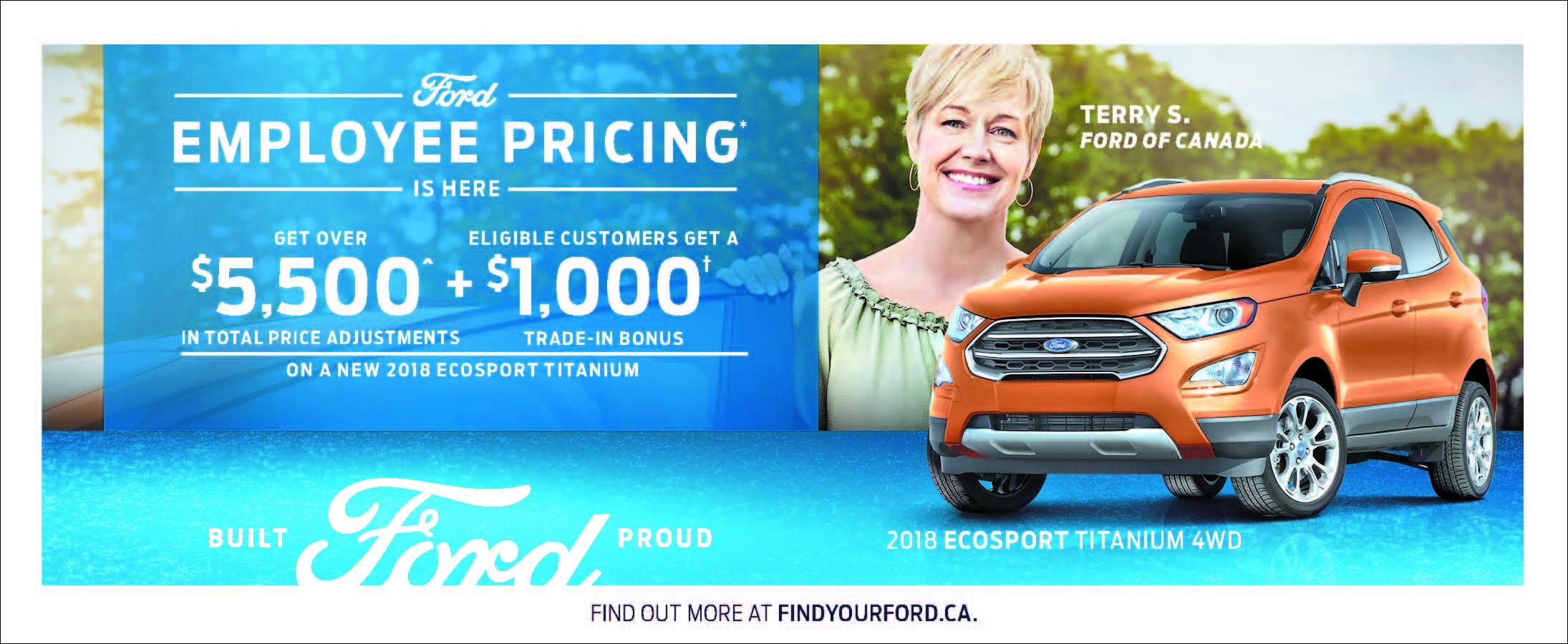 ---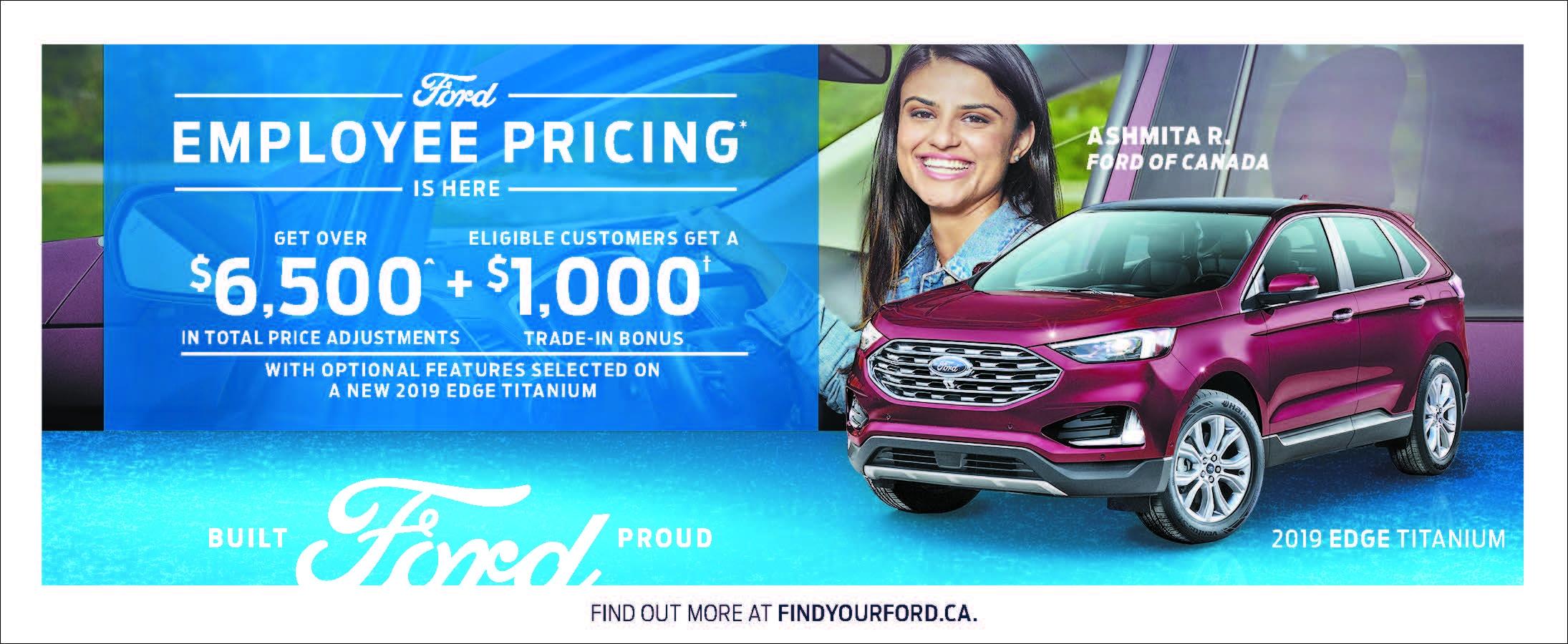 ---
Contact Us
*Required Fields
---
83*
Ford Employee Pricing ("Employee Pricing") is available from July 3 to September 30, 2019 (the "Program Period"), on the purchase or lease of new 2018 EcoSport, most new 2019/2020 Ford vehicles (excluding all 2019/2020 cutaway/chassis cab models, E-Series stripped chassis, F-150 Raptor, F-550, F-650/F-750, ShelbyTM GT350/GT350R Mustang, Mustang Bullitt, Ford GT, and 2020 Escape, Explorer, Expedition, Ranger and Super Duty). Employee Pricing refers to A-Plan pricing ordinarily available to Ford of Canada employees (excluding any Unifor-/CAW-negotiated programs). The new vehicle must be delivered or factory-ordered during the Program Period from your participating Ford Dealer. Employee Pricing is not combinable with CPA, GPC, CFIP, Daily Rental Allowance and A/X/Z/D/F-Plan programs.