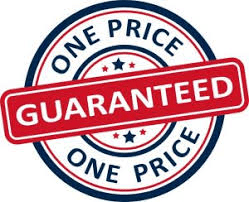 One Price Posted/ No Additional Fees
One price and your best price.
Why do we post your best price upfront with all the discounts already included?
The automobile business has gotten a bad rap because customer prices and rebates are not always fully disclosed.
When a customer purchases a vehicle, there may be additional fees added to the price known as administration or documentation fees.
Why is this done? So the dealership or salesperson can try and ask as much as they can because they'll get a commission on the higher price you'll end up having to pay!
Plus, there's an additional department you may not be aware of until it's too late called The Business Office who get paid solely on getting you to fork over these additional higher fees.
If you're a good negotiator you may get a better price than your neighbor, friend or relative.
That's not fair.
At Royal Automotive we determine our discount up front, so you can see the price on the internet or if you walk into one of our showrooms.
You do not have to worry that you will pay more than anyone else, as everyone pays the same fair price.
Our prices are determined at the beginning of each month depending on supply and availability.
Buying a car should be easy and pain free, that's why we published a car buying guide to help protect you when looking for new vehicle. You can read it
here
.
Just drop us an email, look over our web site, call or better yet pay us a visit and you can see all our best prices posted on every new and used vehicle.
At Royal Automotive We Make It Easy.