While-You-Wait Amenities That Make It Feel Like You Never Left Home!
Enjoy our FREE WiFi services in the waiting lounge or watch some TV while you enjoy our FREE coffee!
Need to run an errand while you're car is being serviced? Let our FREE shuttle service take you where you need to go Monday through Saturday.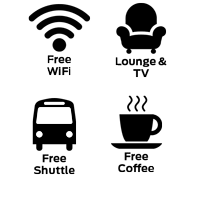 Services include:
Tire Changeover from season to season - $24.95 on rims / $99.80 not on rims
Tire Storange $39.95 per season
13 National Tire Brands available - We Will Not Be Undersold!
Battery Maintenance/Replacements
Motorcraft® Replacement Parts and Fluids
Motorcraft® Batteries - Covered for 3 years
Toll-free number that covers you across North America
...and more!
If You Have a Question, Please Call Us at: 306-782-3278
Open 6 days a week!
Monday: 8:00 AM - 5:00 PM
Tuesday: 8:00 AM - 5:00 PM
Wednesday: 8:00 AM - 5:00 PM
Thursday: 8:00 AM - 5:00 PM
Friday: 8:00 AM - 5:00 PM
Saturday: 8:00 AM - 5:00 PM
Sunday: Closed